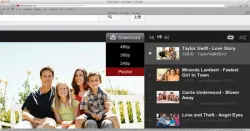 AOL On http://on.aol.com/
Bing http://www.bing.com/?scope=video&nr=1&FORM=NOFORM
Blinkx http://www.blinkx.com/
Clipblast http://www.clipblast.com/
Dailymotion http://www.dailymotion.com/gb
Google videos https://www.google.com/videohp?hl=en
Metacafe http://www.metacafe.com/
Moving Image Archive https://archive.org/details/movies
Vevo http://www.vevo.com/
Yahoo https://video.search.yahoo.com/
Yandex https://www.yandex.com/video/
YouTube https://www.youtube.com
Optimizing Video on Sharing
Lots of people watching and searching video on the basis of their name, so before uploading video name should include the keywords of related topic
Make sure you use the best tags which related to video when you uploading
Proper title and description require to attract the visitor attension
After uploading choose the attractive thumbnail which show some mean and give a question mark in the mind of visitor. So they will comments on the video and share personal thoughts.
Share your videos on the channel , try to bookmarks it. Try to post on websites to get backlink on video page.