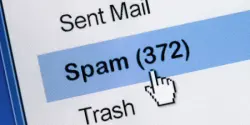 Why Use spamming
Some big marketing company hire the hackers and create crawler which are mostly used to theft the personal data from the websites. Some buy these data from other company for marketing purpose.
For example think you started a small business but you don't have any records to publish your products in front of useful clients then you hire some marketing company which provide the specific data to you or do bulk email marketing for you. In a short time period you get lots of lead and sale will go up.
These company use the spamming technique like bulk sms, get information from website with the help of crawler. Some time manully they get the information of clients of specific category. A big source of these information is directory website or portal in which you get the personal details. Like some matrimonaial website , a business directory and a property portal. They sale the data to special person about specific category.

How to Stop Spamming
To stop spamming there are different way in different level. Fighting with spam is not easy task and not 100% possible .
Client Level stop email spamming
If you are showing email address on website try to make it into image so that crawler will not read it.
Before submitting the email address into any website make sure they will not distribute it to any third party
Always try to hide the details on website because its very sensitive information for marketing purpose
Don't subscribe to any spam website which totally say false information on website and get the details from you.
Also don't send bulk emails from your client software like

Outlook Express

Thunderbird

etc. Use third party trusted website like mailchimp and vertical response.
If you get the spam email into your spam or junk folder then make them permanent spam by filter setting. You can also submit the details into the Google spam form to fight with spam.
Please do not use the business email account for marketing purpose means dont send bulk marketing emails from your outlook express etc. Use mailchimp or vertical response website for bulk marketing.

Server Level Stop email spamming
Always make the security high on the server to stop the crawler to hack the server. If they hack the server they use the clients details and send

bulk email

from server.
Always time to time scan the server using trusted antivirus they will remove the auto scripts which are running in backend to send bulk marketing email from your server
Set the limit in hour about send email from server.
Always set the security of grammar on server is on to stop spamming .
Set on require helo command before mail and on remote to block email which forget the sender emails etc