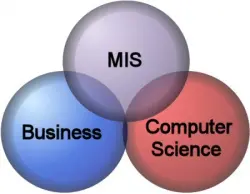 Management Information System
MIS is an organized portfolio of formal systems for obtaining, processing, and delivering information in support of the business operations and management of an organization.
Management Information System include
Transaction processing systems for operational data processing that are needed, for example to register customer orders and to produce invoices and payroll checks.
Management reporting system capable of producing reports for specific periods, designed for managers responsible for specific functions in a firm.
Decision support system expressly designed for the support of individual and collective decision making.
Executive information system, which support the work of senior executive.
Office information system, which support and coordinate knowledge work in an office environment by handling documents and messages in a variety of forms-text, data, image and voice.
Components of MIS
The physical components of MIS comprise the computer and communication hardware, software, database, personnel and procedures.
Hardware

Multiple computer systems:

Mainframes, minicomputers, personal computers.

Computer system components are:

Central processor, memory hierarchy, input and output devices.

Communication:

Local area networks, metropolitan area networks, and wide area networks.

Software -

System software and applicati0on software.

Database -

Organized collection of data used by applications software

Personnel -

Professional cadre of computer specialists, end users in certain aspects of their work.

Procedures -

Specifications for the use and operation of computerized information systems collected in user manuals, operator manuals and similar documents.
MIS goals and objectives
It is necessary to develop the goals and objectives for the MIS which will support the business goals.
Provide online information on the stocks, markets and the accounts balances.
The query processing should not exceed more than three seconds.
The focus of the system will be on the end user computing and access facilities.
Information support will be the first in the strategic areas of management such as marketing or services or technology.