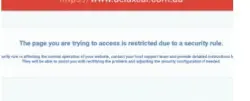 Are you facing the below error when open the website into mobile.
"the page you are trying to access is restricted due to a security rule"
its due to some modsecurity module on apache server. Contact the hosting provider to solve.

or try the below solution . Create the .htaccess file and write below code and update it on server.
<
ifmodule
mod_security.c=""
>
<
br
/
>
SecFilterRemove 00318
<
br
/
>