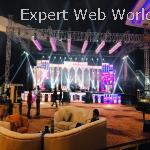 EVENT MANAGEMENT COMPANIES IN CHANDIGARH, MOHALI
Contact Number: 9216717252

If number is not correct inform us.
Address: 145
sector 8

Mohali
Punjab
India
140655


Phone: 9216717252

Posted Date : 18-02-2020


About EVENT MANAGEMENT COMPANIES IN CHANDIGARH, MOHALI :
Global Events (9216717252) is a Chandigarh based event management company. we have total solution of av, lights and stage, barricading Call global events for all your events, conferences, product launch, road shows, DJS, artist and celebrities' management, live bands, dance troupes , with class and perfection. We provide top quality entertainment for corporate parties, conventions, private parties, weddings, conferences, road shows, hotels, night clubs, food festivals, cocktail parties, fashion shows, trade shows, exhibitions etc. We organize: celebrity- Indian celebrities, Bollywood stars, singers & musician celebrities etc.
don't forget to mention that you found this ad on Expert Web World Directory Website.
---