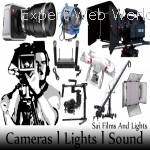 Sai Films & Lights Equipments On Rent, Hire Camera, Lights, Sound
Contact Number: 9888876071

If number is not correct inform us.
Address: Opp Bus Stand, Main Market, Kajheri
Sector 55, Chandigarh

Mohali
Punjab
India
160017


Phone: 9888876071

Posted Date : 12-07-2016


About Sai Films & Lights Equipments On Rent, Hire Camera, Lights, Sound :
Sai Films And Lights


Sector-52, Chandigarh
Mobile No: 09888876071
We Have All Film Shooting Equipments, Like Cameras, Lights, Sounds, Film Sets, Vanity Vans, Claps, Make Up Vans, Arri Alexa, Red Epic, Red Mx, Red one, Red scarlet, Sony F3, Hasselblad H4x, Sony F65, Sony FS 700 slow motion, Jimmy Jib, Dolly Panther, Motion Control Rig Milo, Black Magic, Sony ex3, Canon C300, Canon c500, Canon 5d mark3, Probe Lens, Radcam, Phantom Miro, steady cam, Phantom Flex High Speed Camera, 4K Cameras, 3D Cameras, 5D Cameras, 7D Cameras, DSLR Cameras, Making Cameras, Wedding Cameras, Camera Arri, Sony Cameras, Canon Cameras, Halicam Camera, Professional Photographers And Videographers All Type Of Shooting Lights Available, HMI, Focus, Reflectors, Monitor, Jimmy Jib, Film Set On Hire And Sound Equipments, Also Available Vanity Vans On Rental. All Shooting Equipments, Film Cameras On Hire, Shooting Camera On Rent, DSLD Camera On Rent, Sound Systems On Rent, Film Equipments On Hire, Lights On Hire, Camera On Rent, Wedding Camera, Jimmy Jib On Rent, Vanity Van On Hire, Lights On Rent, Sound On Rent, 4K Camera On Rent, Film Shooting Lights On Rent, Film Equipments On Hire, Equipments On Rent, Monitor On Hire, Make Up Van On Rent, Chandigarh Film Equipments, Chandigarh Light Equipments, All Type Of Cameras On Hire In All Over Punjab - Chandigarh, Mohali, Ludhiana, Patiala, Amritsar, Bathinda, Moga, Jalandhar, Hoshiarpur, Kiratpur, Sohana, Landra, Ferozpur, Khanna, Panchkula, Kharar, Phagwara, Balongi, Ambala, Zirakpur, Dhakoli, Dera Bassi, Manimajra, Sangrur, Muktasar, Bahadurgarh, Patiala, Jind, Nawa Shahar, Naya Gaon, New Chandigarh, Pathankot And All Over Punjab
don't forget to mention that you found this ad on Expert Web World Directory Website.
---