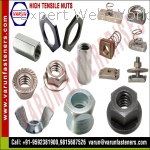 High Tensile Hex Nuts
Contact Number: 9592381900

If number is not correct inform us.
Address: 826, Besides Chopra Autos, Gaushalla Road, Harbans Pura, Ludhiana - 141013. Punjab ( INDIA )

Ludhiana
Punjab
India
141013


Phone: 9592381900

Posted Date : 30-06-2017


About High Tensile Hex Nuts :
Varun Enterprises is Ludhiana India based manufacturers and exporters of high tensile fasteners products like high tensile precision hex bolts, hex nuts, High Tensile Fasteners, Precision Fasteners, High Tensile Bolts, High Tensile Hex Bolts, High Tensile Nuts, High Tensile Hex Nuts, Anchor Foundation Bolts, Threaded Rods, Threaded Bars, Coil Rods / Tie Rods, Threaded Studs, Spring Washers, Plain Washers, Flat Washers, Railway Fasteners, Road Crash Barrier Fasteners, Structural Bolts, T-Bolts Tbolts, U-Bolts Ubolts, Eye Bolts, forged fasteners, Forging Fasteners, forged bolts, forged nuts, precision nuts, precision bolts, heavy fasteners, construction fasteners, structural fasteners, pipline fasteners, oil & gas fasteners, powerline fasteners, automotive fasteners, automobile fasteners supplier exporter manufacturer distributor from India Punjab Ludhiana
don't forget to mention that you found this ad on Expert Web World Directory Website.
---